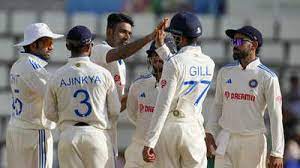 "India Crushes West Indies by 141 Runs!
In the first Test match in Dominica, India showcased their dominance, thanks to Ravi Ashwin's exceptional performance on foreign soil. Supported by the centuries of Yashasvi Jaiswal and Rohit Sharma, India piled up a formidable score of 421/5d after dismissing West Indies for 150 runs, courtesy of Ashwin's brilliant half-century. West Indies struggled in their second innings too as Ashwin's seven-wicket haul wrapped up the match for India within three days. With this victory, India has also opened their account in the 2024-25 World Test Championship.
Yashasvi Jaiswal: The planning was decent. We were enjoying our conversation. spoke very length with Rahul Sir. I'd like to express my gratitude to all of the selectors and Rohit (Sharma) bhai for their belief in me. It's wonderful; I've been working for it. I've been concentrating on being disciplined and properly preparing. For me, it's a very special and emotional experience to play Test cricket for India. This is just the beginning; I must maintain my concentration and keep improving my cricket. I am thanking all who supported me along the way. A lot of people. The senior players' batting was outstanding. I'm eager to pick their brains more.
Yashasvi Jaiswal's talent and poise were lauded by Rohit Sharma, who said, "He has the talent and has shown it in the past." He wisely batted when he came in. In every circumstance, he managed the strain effectively.
"Their performances speak for themselves; they have been doing this for some time now," Rohit added in reference to Ashwin and Jadde. Giving children the freedom to express themselves is all that really needs to be expressed. On fields like these, having players with such expertise is always a privilege.
Brathwaite told:-
Captain of the Windies, gracefully accepted responsibility for his team's maiden Test loss. I'm disappointed that I wasn't able to score runs, he said. I must take the initiative and lead. We lost too many wickets in the first innings, and I was unable to captain as a senior player.
"I appreciating the Domanika public which is came for us," Brathwaite told. On the first day, the match was good, but we fell short with the bat. There was hardly much turning. I'm disappointed that I didn't manage to score any runs. I must take the initiative and lead. We lost too many wickets in the first innings, therefore I was unable to captain as a senior player. It's difficult, but Ashwin and Jadde have good control on these surfaces (referring to their bowling). Finding the ideal balance between scoring and defence is important. We were unable to play the shots we want and must improve our bat technique. Yashasvi made a strong start, and his style of batting indicates that he enjoys the game.
Windies captain praising and congratulate India on their outstanding victory and wish for more thrilling cricket in the forthcoming games. Let's maintain the competitive spirit of the game and enjoy the exciting matches played on the cricket pitch.
Ashwin shine's: –
"Ashwin's Spectacular Comeback! From Missing the WTC Final to Taking 12 Wickets in Dominica against West Indies in the First Test. He became the first Indian bowler to take five wickets in both innings of a Test in the Windies.After announcing the first innings at 421/5, the Indian spin maestros swiftly left their mark, propelling West Indies into a commanding position, trailing by 271 runs. Ashwin and Jadeja restricted West Indies to 4 runs before tea and continued to trouble the batsmen in the final session. The experienced offie eventually took 7 wickets in the innings, while Jadeja grabbed two, and Mohammed Siraj got one. Earlier in the day, India quickly lost Virat Kohli for 5 runs after lunch, and as soon as Ishan Kishan scored his first Test run, Rohit Sharma signaled him to wait. On the third ball of the next over, Kohli's catch was dropped, but before that, Rahkeem Cornwall had made 76 runs. Yashasvi Jaiswal scored 171 runs in his debut match, and eventually, West Indies sent him back with a golden duck, along with Alzarri Joseph. One brought two when Ajinkya Rahane got out for 3 runs cheaply, keeping Windies in the game."