From Barbie's fashion to her real-world adventure with Ken, the Barbie film promises a lot of thrilling elements.
Barbie is a toy that has not only won over children's hearts, but has also endured as a beloved figure in popular culture for countless generations. Its inclusion of persons from all racial, gender, and ethnic backgrounds is crucial to its ongoing success.
Not only Barbie, but even Ken was designed with inclusivity in mind. Every child who saw this elegant plastic doll could relate to it and feel connected.
As we grow up, especially as girls, society often limited Barbie's presence to girls only, simply because they don't consider pink as a "masculine" color. However, in today's time, where we are aiming to break all stereotypes, Greta Gerwig's Barbie film is bringing back that doll which was an essential part of our childhood.
BARBIE'S FIRST LOOK IMPRESSIVE:-
Since the release of Margot Robbie's unique first look as Barbie, the whole world is excited about the film and what it holds for us. It has become one of the most eagerly awaited films of 2023 thanks to teasers and previews. Just like the doll itself, the film will surprise us with different versions of Barbie each time. From portraying physicists, lawyers, politicians, and even doctors, Barbie will show us various career options in the film.
While we are getting ready for a new perspective on Barbie's pink and plastic yet beautiful world, there is much more behind the making of this film. What we see in the trailers is the final refined version that we, as viewers, will enjoy. However, there are many aspects behind the scenes that most of us are unaware of, like how the project was kickstarted or how Greta Gerwig's Barbie brand came into being.
Greta Gerwig's opinion of the Barbie brand is:
In films like "Little Women," "Lady Bird," and "Frances Ha," which each centre on women discovering their identity within the people around them and their circumstances, Greta Gerwig's distinctive directing style, focused on subtly humorous, has been praised. By highlighting the roles Barbie plays in gender identity, consumerism, and self-awareness, Gerwig has presented Barbie as a clever yet self-aware comedy. Barbie is transformed into a sweet yet thought-provoking comedy in her hands, one that will amuse us while also being insightful and informative.
A wide variety of Barbies and Kens: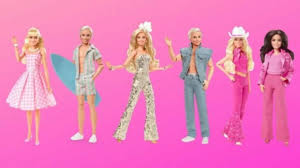 Fans of the Barbie brand may expect to see a wide variety of Barbies and Kens from every era. Simu Liu, Ariana Greenblatt, Nicola Coughlan, Ritu Arya, Michael Sheen, America Ferrera, Alexandra Ship, and other Barbie Land residents will portray a diverse range of colourful characters. Barbie and Ken's styles have evolved significantly since they were initially debuted as dolls in 1959 and 1961, respectively. The trailers show performers embracing 60s, 70s, 80s, and 90s hairstyles and clothing, heightening the anticipation of witnessing these icons morph into marionettes.
John Cena's enigmatic Barbie cameo: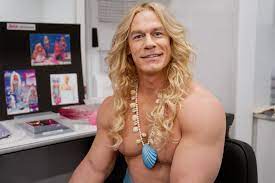 Even with what we know about the Barbie film, fans cannot be prepared for the intriguing Barbie appearance by former professional wrestler turned actor John Cena! Cena will perform a duet with Dua Lipa, who plays Barbie's Mermaid equivalent, in order to create a hit comic star appearance as a marionette. Cena's cameo, which has yet to be disclosed in the trailers, has piqued the interest of those curious to see how the star of train wrecks and pie makers looks as a marionette.
Barbie's Empowering Journey of Self-Discovery:
While Barbie is typically viewed as a child's toy on the surface, the Barbie doll represents something deeper when faced with an existential dilemma. When presented with the existential conundrum, she begins to suspect that something "different" about her exists. She makes a bold choice to set sail on an extraordinary expedition, venturing into the realm of the tangible world, driven by her yearning to unravel the enigmatic secrets that lie at the core of the universe, as they elude her complete understanding. She realises that being different is okay after chatting with numerous people who aren't as enamoured by the exuberant Barbie character. While Barbie is widely regarded as an inspirational figure, she also promotes diversity and fights stereotypes, making her true self a powerful message to deliver.
Barbie's classic clothes and amazing Fashion:
No Barbie film is complete without her classic clothes and amazing fashion! And the trailers have certainly revealed a great deal. There is no shortage of the famous Barbie aesthetic in every scene of the film, from Barbie's signature holiday clothes to her magnificent California Dream Beach Barbie swimsuit. Her footwear, from her tiny pink heels to Ken's day-glow yellow and pink rollerblades, is given great attention. Barbie would not be the same without these trendy embellishments!
Ryan Gosling's Stunning Performance as Ken:
When it comes to Ryan Gosling's portrayal of Ken, opinions on the internet differ. Some may dispute whether he was the proper option for the role and how much "energy" he adds to this character. However, Ryan Gosling, who is known for his reserved and powerful performances in films like as Drive, Blade Runner 2049, and The Grey Man, is truly a sight to behold during the trailer. What's most endearing is that, contrary to popular belief, Gosling understands that the most pleasant component of portraying Ken is to embrace the naïve charm. It's pure magic when he hilariously falls into that position, and it's the key to capturing Ken's undeniable charisma.
Margot Robbie's Biggest Comedy Lead Role:
Margot Robbie is a talented performer who has worked in a variety of film genres. From superhero films like Suicide Squad to historical dramas like Mary Queen of Scots, she has demonstrated her versatility in a variety of roles. She has, however, had little prior experience with funny films.
Barbie allows her to take on her most prominent comic lead part to date, and playing the renowned character of a live Barbie doll demonstrates her versatility. We hope that with this opportunity, Margot Robbie will be able to play characters who embrace the wonderfully bizarre and fearlessly brazen parts of life in the future.
Will Ferrell in His Best Villainous Role Since Zoolander:
In the video, Will Ferrell plays a villain who is desperate to keep Barbie imprisoned in her box since she escaped from Barbie-land and 'wants to put that doll back in her case!' Like his character in Zoolander, he is the personification of consumeristic craziness in this scene, attempting to imprison Barbie under his own standards.
Will Ferrell appears in the teaser in a flamboyant avatar, and this part provides him with yet another opportunity to shine as a noteworthy antagonist.
Barbie's Soundtrack and Song Remixes:
Barbie's soundtrack has gotten even more interesting when we saw Dua Lipa perform her groovy rendition of a shattered disco ball in the teaser. On the soundtrack, Margot Robbie, Issa Rae, Emma Stone, and even Gervig can be seen dancing to the remix of "Dance the Night," as well as Ken's "Pink," Charlie XCX's "Speed Drive," and Tame Impala's "Journey to the Real World." Equa's well-known "Barbie Girl" will also receive a long-awaited remix with participation from the 90s band, including Nicki Minaj and the Spice Girls.
Countless Easter Eggs and Movie References:
Fans can expect references to Easter Eggs and vintage films like Easterland and Metal Doll, as well as other great films, based on the teaser video, which pays homage to Stanley Kubrick's 2001: A Space Odyssey. We see Barbie waving to Dorothy from The Wizard of Oz as she steps out of her pink car, hinting at her journey to Oz, while Ken's dance-off with another character mirrors the rivalry between the Sharks and Jets in West Side Story. Barbie appears to be more than simply a doll; she appears to encapsulate the entirety of pop culture!
Click here for other social content.