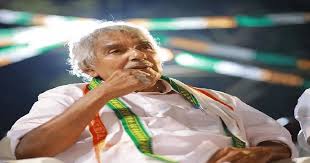 On Tuesday, the two-time Chief Minister of Kerala and Congress leader, Omman Chandi, breathed his last at a hospital in Bengaluru. 79 years old Omman Chandi was suffering from cancer.
In a Facebook post, his son, Chandi Oommen, mentioned that the experienced Congress leader passed away around 5:15 am. Upon hearing the news of his demise, the Kerala government declared a holiday on Tuesday and canceled examinations.
Political Contributions and Achievements of Omman Chandi:-
Omman Chandi, hailed as a distinguished Congress stalwart in Kerala, had earned immense acclaim for his remarkable rapport with diverse social and religious groups, making him widely popular. As Chief Minister, he was well-liked for his "Jan Samparka Paripadi (People's Contact Program)" through which he engaged with the public, listened to their issues, and offered on-the-spot solutions. He received the 2013 UN Public Service Award in appreciation of his dedication to serving the public.
Chandi is credited for overseeing some of Kerala's major infrastructure projects, including the Kochi Metro, Vizhinjam International Seaport, Kannur International Airport, and the Kochi-Mangalore Gas Pipeline.
He served as a member of the Kerala Legislative Assembly for over twelve terms, being first elected as an MLA from the Puthuppally constituency in 1970. He continued to represent the same constituency until his passing.
Chief Minister Pinarayi Vijayan of Kerala:-
With heartfelt emotions conveyed through a Facebook post, Chief Minister Pinarayi Vijayan of Kerala extended his sincere condolences and contemplated the conclusion of a momentous chapter in the state's rich political heritage. He reminisced, saying, "Back in 1970, it was the day when both Omman Chandi and I set foot in the Kerala Legislative Assembly simultaneously. But I have continued to be active in public life and outside the Assembly for the majority of the years since then. But Omman Chandi continued to be a part of the Assembly, and there is no greater example of his connection with the people of Kerala."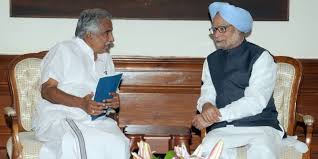 As per V.D. Satheesan:-
Congress leader V.D. Satheesan informed reporters that Chandi's mortal remains will be flown from Bengaluru to Thiruvananthapuram by a special aircraft and then taken to the Congress office for public homage. Later, the mortal remains will be taken to the Thirunakkara Ground in Kottayam and then to his residence in Puthuppally. The final rites will take place at 2 pm on Thursday at the Puthuppally church.
Satheesan also mentioned that Omman Chandi had been undergoing treatment for a long time, and there was hope that he would recover and resume his leadership. "His death has left us in sorrow."
What you need know about Omman Chandi is as follows:
Omman Chandi presided over Kerala as chief minister twice, from 2004 to 2006 and again from 2011 to 2016.
Under several governments led by K. Karunakaran and A.K. Antony, throughout his illustrious career, has adeptly managed several ministerial roles, which encompassed Labour (from April 11, 1977, to April 25, 1977, and April 27, 1977, to October 27, 1978), Home (from December 28, 1981, to March 17, 1982), and Finance (from July 2, 1991, to June 22, 1994). He served in the Kerala Legislative Assembly as the opposition's leader as well.
Representing the Puthuppally constituency in Kottayam district, Chandi held the record for the longest continuous tenure as an MLA, serving for more than 50 years.
He first represented Puthuppally when he was the president of the Youth Congress. Later, in 1977, he became a minister in the K. Karunakaran cabinet.
Omman Chandi was a leader who was always accessible to his people. His "Jan Samparka Shikayat" program, initiated during his tenure as Chief Minister, was highly popular, where he listened to the grievances of the people and addressed their issues on the spot.
Click here for other social blog.